EDC Pistol
Glock 19 Gen 4
Frame is contoured and stippled
Holosun SCS MOS Green dot optic mounted directly to the slide, backed up with suppressor-height sights
I train with my current G19 every week & even though I continually maintain the parts, I replace the pistol every 40k-50k rounds
My EDC Holster
The most comfortable, concealable, durable holster I've ever found is the Incog Eclipse Shadow holster from G-Code. I wouldn't use any other holster for AIWB.
My Light
Because I carry AIWB, I chose the small & light Surefire XC1 light. I've had an up/down relationship with this light, but the new battery cap upgrade fixed its little problems. I love it.
Why Glock 19?
As mentioned before, I select my tools according to practicality. There is no pistol on planet Earth that is as reliable, as tough, and as easy for anyone to maintain as the Glock pistol (and every pistol must be maintained regularly with parts replacements). The Model 19 is the pistol that fits my carry and use requirements. I contour the grip to fit my hand comfortably and then stipple for a sure grip despite rain or sweat or blood. Glock isn't "Perfection," but it is the perfect pistol hobby kit.
CQB Rifle
BCM upper / PSA lower
Chambered in 5.56
Daniel Defense 12.5" CHF barrel
Surefire Warcomp / suppressor mount
At the ready when I'm home, often goes with me away from home
Sighting System
Like every carbine should have, my SBR has iron backup sights: Magpul MBUS Pro steel sights. The optic is a Primary Arms SLX 1X MicroPrism. I don't keep the BUIS up all the time because the SLX's ACSS reticle is etched. So if the battery fails, I've still got a useful reticle (in most cases).
More Accessories
Every carbine needs a sing. I use a Blue Force Gear padded Vickers sling (on this and every other rifle I own). Charging handle is Daniel Defense Grip-n-Rip ambi. The stock is Battlelink minimalist. Love these.
Why a Shorty 5.56?
This is a personal build; one of my first ever AR builds. It started as a pistol, but then I made it into an SBR. It also evolved from a .300BLK to a 5.56 (due to availability propabilities in an ammo crunch or a grid-down situation). The 12.5" barrel gives the 5.56 round a decent velocity—head and shoulders above a 10"—and it'll be a platform for my suppressor, whenever it gets outta jail. I love this gun and train with it often. It is my first choice for at-home or from-the-truck defense.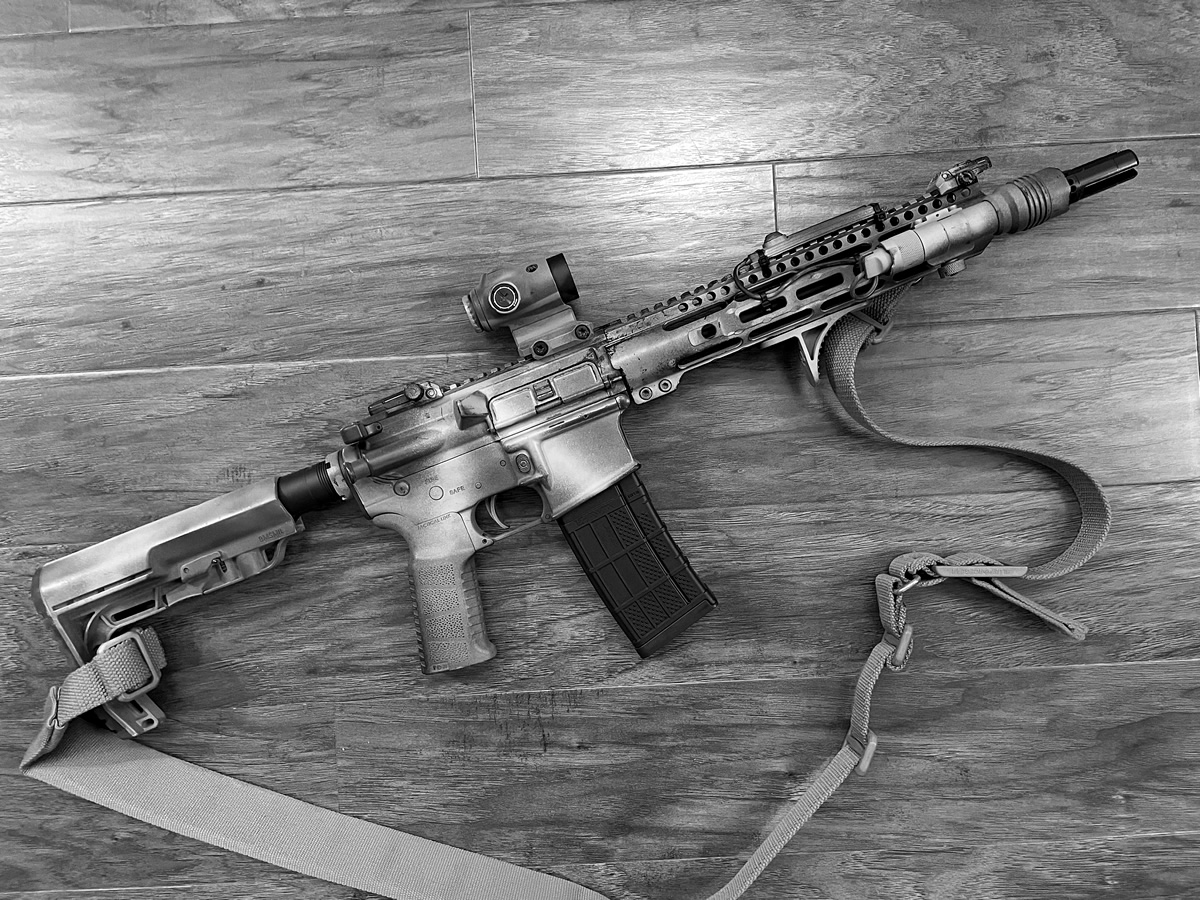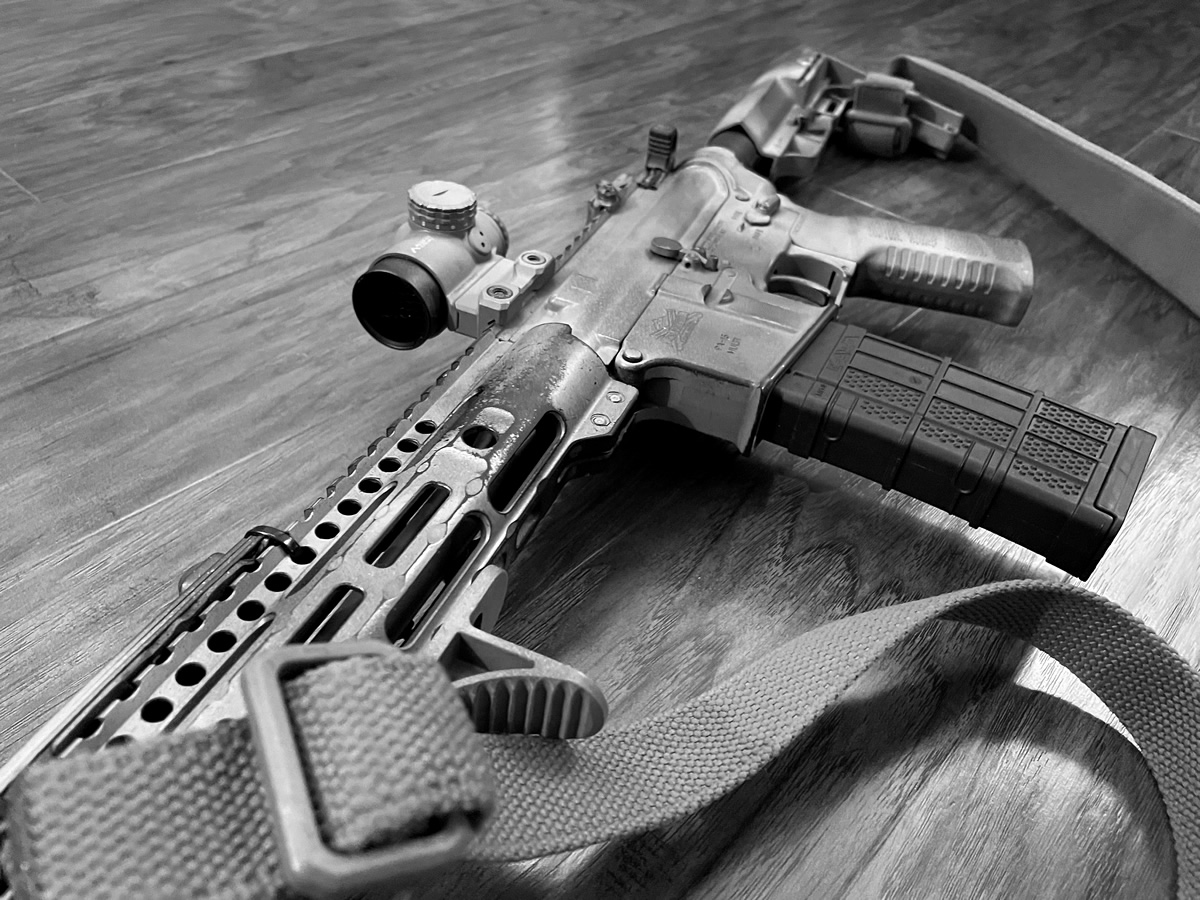 Main Heavy Rifle
Barrett REC 10
Main Heavy Rifle
Barrett REC 10
Chambered in .308/7.62
Barrel length: 16"
Surefire Warcomp flash hider
Blue Force Gear padded Vickers sling
Magpul furniture
My Optic
This rifle sports the Primary Arms 1-8 ACSS Illuminated Reticle low power variable optic. I'm a huge fan of the ACSS reticle and much prefer it for a fighting gun that is meant for 800 and in. The reticle allows you to never have to touch your turrets. Perfect.
My Customizations
The REC 10 comes standard with a 3-prong flash hider that sounded like perpetual tinitus when firing...and for seconds after I stopped firing. Had to replace that with a Surefire Warcomp, which is at once non-ping, a fantastic flash hider, excellent for keeping the muzzle still, and a mount for SOCOM cans.
Why the Barrett REC 10?
I've had a couple of M5 rifles and never fell in love with them, owing to reliability deficiencies. I decided I wanted a "last purchase" fighting rifle that would serve for both CQB and for more distant engagements, and that was really bombproof. Barrett's approach to this rifle was perfect; with the ridiculously solid gas block and the matched receivers, coupled with a solid reciever-to-rail snug that just oozed solidity. I'm a .30-cal guy and this is a fantastic .30-cal gun made to hold up to any abuse.
Long Range Rifle
Remington 700 Police
Long Range Rifle
Remington 700P
Chambered in .300 Winchester Magnum
Barrel length: 26"
Magpul Hunter Stock
Harris HBR bipod
Blue Force Gear padded Vickers sling
Accu-Shot monopod
My Optic
This is a mule-kicker so it needs a tough scope and mount. I went with a Burris XTR II 5-25x50 scope and Burris XTR Signature 1.5" rings with 20MOA inserts. It has the SCR Mil reticle and superb clarity. Big, fat, and tough; the knobs have fantastic knurling.
My Customizations
I removed the black Police model stock and dropped the rifle into a Magpul Hunter Stock. I really dig the comfort and the adjustable comb and length of pull. In order to use the Accu-Shot monopod on the rear, I added a Convex Machine LOP spacer with picatinny.
Why the Remington 700P in .300 Win Mag?
The Remington 700 is a proven platform and the big, heavy bull-barrel of the Police model is a boon to accuracy. Despite reports of some modern Rem700 lemons, I got a peach of an accurate tack driver that holds zero perfectly. It's a bit heavy, but it's glorious. I'm a .30-cal guy and the .300 Win Mag round is another proven long-range heavy hitter. All in all, I have my dream rifle for anything out to and past 1500 yards and a package that allows it to work perfectly.
Basic Carbine
Daniel Defense DDM4V7
Basic Carbine
Daniel Defense DDMV7 (lightweight)
Chambered in 5.56 Nato
Barrel length: 16"
Magpul MBUS Pro iron sights
Streamlight 88066 Pro Tac light
Cloud Defensive switch mount
Blue Force Gear padded Vickers sling
Primary Arms 1-8 ACSS LPVO
Sighting System
I decided to put the 1-8 ACSS optic on this one, as I already have a shorty carbine with a red dot and the 16" barrel on this one allows for better zero groupings from 100-600 yards (I zero at 25 yards), where the magnified scope can be useful. Should the scope go down hard, it's on a QD mount so I can rip it off and flip up the zeroed irons.
My Customizations
The DDM4V7 does not beg for embellishment, but I did remove the DD stock and replaced with the Battlelink Minimalist stock. I prefer this one on all my carbines. As every rifle needs a light, I've got the Streamlight 88066 Pro Tac for 1000 lumens when I need it, and the tape switch is held very securely in the Cloud Defensive switch mount. Even though the DD bolt carrier group is just fine, I replaced with a NiB set just for easier cleaning, since I use this rifle in training on a regular basis.
Why the Daniel Defense DDM4V7?
Daniel Defense ranks among the top 3 or 4 carbine manufacturers on earth and their rifles are clearly some of the best made. I wanted a rifle that would hold up to regular hard training, intensive classes, and hard practical use. This thing is bombproof and even with lots of hard use has yet to produce a malfunction.